A family violence prevention initiative, a day respite service, a clinic to treat diabetes-related foot problems and a cultural awareness safety program have won the 2023 Gippsland Primary Health Awards.
Chief Executive Officer of Vic Health, Dr Sandro Demaio, announced the four winners from 16 awards finalists from across Gippsland who were celebrated at the Gippsland Primary Health Awards event on Wednesday 15 November in Traralgon.
GippSport, Gippsland Women's Health and the Gippsland Centre Against Sexual Assault won the Prevention category, South Gippsland Hospital the award for populations, Latrobe Community Health Service and Latrobe Regional Health won the Health category and West Gippsland Healthcare Group the service category.
Gippsland PHN Acting Chief Executive, Angela Jacob, congratulated the winners who each received a $2000 voucher.
"The awards showcase the amazing work of our primary care health professionals and organisations across the region," Mrs Jacob said. "This year's theme was 'Ask the Question' and our 16 finalists all demonstrated that if you ask the right question the result is a powerful tool for driving health outcomes.
"They demonstrated how, by asking the right questions, they identified the need for their service or project, and then designed and delivered it to meet this need."
See the finalists' details here
Winners:
Populations award – Pictured are Sam Park Deere, Lilli Lush and Fran Allott, all from South Gippsland Hospital Day Respite Service.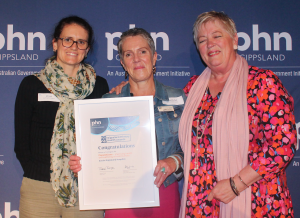 Health award – Pictured are John Chen from Latrobe Community Health Service and Alison Lang from Latrobe Regional Health.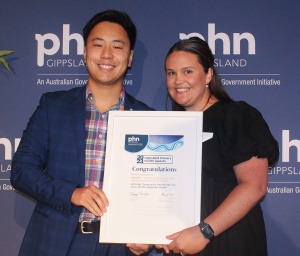 Prevention award – Pictured are Michelle Harris ad Kathleen Denny from GippSport.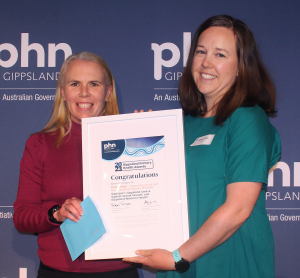 Service award – Pictured are Audra Fenton and Angela Greenall from West Gippsland Healthcare Group.