Watching Bill Parker ride his motor scooter through the streets of Drouin, with his piano accordion strapped to the back of it, is a sight for sore eyes for staff at Lyrebird Village Aged Care facility.
It wasn't too long ago that Bill had no desire to do much at all; illness and COVID-19 had finally taken its toll.
After self-referring to the Mental Health in Aged Care (MHiAC) program, Bill has his spark back. He has returned to busking outside the local supermarket, chatting to friends who pass by and entertaining residents at the Drouin facility with his accordion and piano playing.
"Everything came to a head," he recalled. "A bout of pneumonia left me ill, my fingers stiffened and I couldn't walk. COVID-19 just made everything worse with little or no contact with the outside world."
That's when he saw a brochure about the MHiAC program, being delivered by Wellways across Gippsland with funding from Gippsland Primary Health Network (Gippsland PHN). He discussed it with staff who encouraged him to find out more and then he self-referred.
That was the start of a partnership with his Wellways' mental health and Wellbeing worker, Japhet Lagat, that has not only seen Bill's mental health improve but also a healthy respect and friendship between the two.
Japhet has helped Bill reconnect with the things he loves and cherishes – especially his music. Each MHiAC participant has different needs and every interaction is different.
Media release – Mental Health in Aged Care program 26112021.
Our pictures (from right to left) show aged care resident Bill Parker plays his accordion for Wellways' mental health and Wellbeing worker, Japhet Lagat; Bill proudly displaying the awards he received for his years of supporting local charities; and Bill on his scooter, ready to head out busking in Drouin.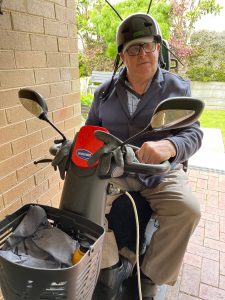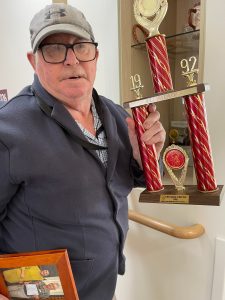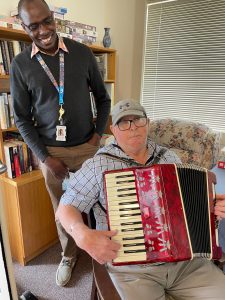 Watch this video of Bill playing his favourite songs … https://youtu.be/7YulAwP-Lus