Gippsland Primary Health Network, Cancer Council Victoria and Australian Centre for the Prevention of Cervical Cancer – invite General Practitioners and Practice Nurses to attend this education webinar.
As we work towards the elimination of cervical cancer as a public health problem, Cancer Council Victoria are engaging with the community to raise awareness of the importance of regular cervical screening and the new HPV self-collection option.
Self-collection for cervical screening became widely available on 1 July 2022. A year on from the policy change, this session will look at the impact it has had on cervical screening in Australia and address the common remaining questions and concerns from patients and clinicians.
With an increasing number of patients now asking for self-collection, we'll also provide you with the tools you need to effectively support your patients to make an informed choice about their screening method and explore how to harness the full potential of this option to engage those patients who are reluctant to screen. We will also look at management options for abnormal self-collection results (including unsatisfactory results) and the recent introduction of new testing processes – as well as providing a brief refresher on HPV and the cervical screening pathway.
Using case-studies and an interactive Q&A format, we will include practical information and tips to get the most out of self-collection, make it work for you, your patients, and your practice, and keep us on track to eliminate cervical cancer in Australia by 2035.
Learning Outcomes:
By the end of this activity, participants will be able to:
Compare the options for cervical screening to support your patient to make an informed choice
Discuss the appropriate follow up for abnormal self-collection results
Describe the different self-collection testing processes now available in primary care
Discuss the potential for HPV self-collection to engage those who are under or never screened into the NCSP
Key speaker:
Professor Marion Saville AM, Executive Director, the Australian Centre for the Prevention of Cervical Cancer – MB ChB, Am Bd (Anat Path & Cytopath), FIAC, Grad Dip Med (Clin Epi), GAICD
Professor Marion Saville is a New Zealand medical graduate who trained in Anatomic Pathology at Northwestern University in Chicago. She went on to complete a fellowship in Cytopathology at East Carolina University and a research fellowship at Georgetown University, focusing on HPV. She has held the position of Executive Director of the Australian Centre for the Prevention of Cervical Cancer since 2000 and has served on cervical screening advisory committees in Australia, New Zealand and Ontario. She currently chairs the working group to review Australia's Guidelines for the management of screen-detected abnormalities in the National Cervical Screening Program. Marion is particularly interested in how culturally safe screening can meet the needs of disadvantaged groups who have poorer cancer outcomes. Marion was appointed as a member (AM) of the Order of Australia on Australia Day 2020 for her significant service to women's health through cervical screening initiatives.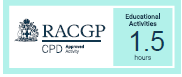 Activity ID: 540038